What happens when we lose an iconic tree?
When Generations have loved a tree, what do we do when its lifetime ends? For me, finding that answer started with a single tree. In 1922, Roosevelt Elementary school in Lakewood, Ohio was built around a sprawling swamp white oak tree. Generations of school children grew up under its outstretched arms. Locals speak of having fond memories and photographs under its massive branches. It was dedicated as a Moses Cleaveland tree in 1946.*
In 2020, the 320+ year-old tree was in decay and its canopy was dying. It became a race against time to track down who would be removing this swamp white oak. Two days later the tree was gone. I was heartbroken. Every bit including the stump was ground to mulch, with one exception. A persuasive teacher had convinced the tree removal company to give her two slices of a branch for her kindergarten students to count the rings. With almost nothing left of this long-standing giant, the imprint this tree had on an entire community was about to vanish. I was determined that something must be done.
Capturing History Through Art and Ink
My woodblock tree ring prints represent a hands-on project of nature connection, historic preservation, and conservation. These prints are applied to Japanese Kozo paper handmade locally by the Morgan Conservatory in Cleveland. The work reflects the heartbeat of the Forest City. A portion of the proceeds is donated to restoring our tree canopy. This is an ongoing project with limited prints. As more iconic trees fall, this art will make them stand for something.
*Moses Cleaveland (MC) trees are so named for being specially selected as part of the original forest canopy when Moses Cleaveland landed near the mouth of the Cuyahoga River in 1796 (over 225 years ago). A selection of trees in Cuyahoga County were awarded this title in 1946. Age, disease, and development have factored into their decline over time.
Diane Quimper-Balliett, Artist
I've always had a love for nature, conservation, and the outdoors. My work seeks to build an appreciation for environmental stewardship and nature connection.
What makes my tree ring art stand out? Giving back. I founded CLE Tree Revival to honor iconic trees in our community. I wanted ways to share this nature connection with others and to give back by donating a portion of the proceeds for improving the tree canopy in urban areas.
My work involves memorializing significant trees for people and places through art. I love trees and it makes me sad to see good ones go. It's a way to capture history through ink and build pride in our community.
I have degrees in Master of Arts in Teaching the Biological Sciences from Miami University and Bachelor of Science in Biology from Cleveland State University. As a public speaker, I have aimed at helping people build on personal and professional growth.
My free time is spent creating, rock climbing, hiking, doing home renovations, and ecotourism travel. I live in Lakewood, Ohio, with my wife, our two small-but-mighty kiddos, and three fur-kids.
David Dzurick
"Oh it's beautiful!!! Love it sooooooo
much!!! Really exciting stuff!! Great work!"

Lara Roketenetz
"Such a cool part of Lakewood history"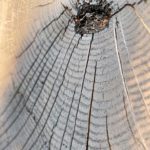 Caitlin Rickus